Bar/ Pub Camera Security System With Pos Interface
If you have a bar, you might be losing money from your employees. This system includes an interface that connects to your CASH REGISTER and puts the transaction data on the screen with the video camera feed. See multiple angles, from multple cameras on one screen, from any internet connected computer. Keep an eye on your bar from home or even while on vacation!
The remote playback feature is really great to verify who worked when. If there is ever a question on the timecards, you have time stamped video documentation of each employees arrival and departure.
Photo is actual jpg from the GeoVision system. It is Froggy Blues in Monroe, Ohio.
Awsome, but watch out, someones bound to get fired.
"It happens every time we install one of these Bar Security Systems. Its a security complete package and its easy for the bar owner to use. And often times he finds employee behavior that needs to be corrected, and at least one employee ends up quitting or getting fired." Andy Wendt, Camera Security Now Technology Consultant.
For a limited time, this price includes SHIPPING UPS Ground!
We need 10 days lead time for free shipping.
Only the highest quality tested equipment leaves our facility. Takes about 10 days for Camera Security Now to build and test this system. Once we get it on the bench, we have an extra service where we allow you to connect to the system from your internet connection and see some of the cameras you are buying.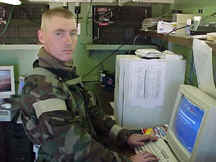 If you're not ready to buy yet but want to see a live demo with cameras from our facility, email us and we will set up a time for a live demo. Here's our email address: sales@csn1.com. Bill, Andy, Jessica, Adam, Josh, Scott or I will do a live demo with you. Yes, those are our real names, and yes, one of us will be handling your live demo.
This system is going to save you over $20k! If you need to you can lease this for 3 to 5 years. We can hook you up!
If you need this installed, we can send a member of our Tech Army Organization over to give you an estimate. We can make that happen too. And these guys are good because only the best are allowed in the Tech Army! (www.Tech-Army.org)
Here are the Specs for the Bar Camera Security System:
8 – Color Low light True Day/Night Cameras designed for Bar/ Restaurant environment. Includes POS interface to overlay cash register receipt on saved video. only $5936